Eco Elite GIANT Stainless Steel Waste
Eco Elite GIANT Stainless Steel Waste
Description
Additional information
Reviews (0)
Eco Elite GIANT OUTDOOR/INDOOR Stainless Steel front opening heavy duty Stainless Steel- 70 litre inner liner capacity.
NEW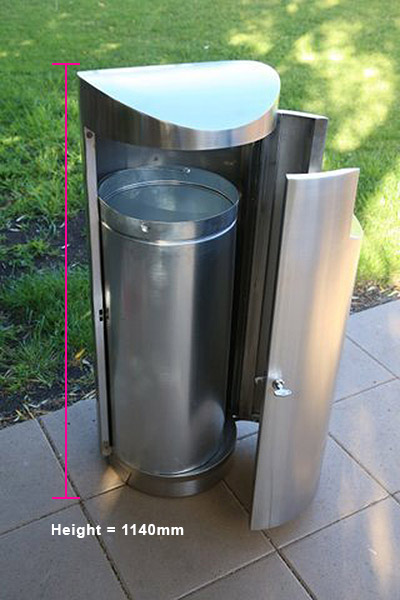 An extremely attractive and stylish bin. Equally at home OUTDOORS or INDOORS. For outdoor use it's streamline and robust design ensures that water and weather are not an issue.
It is also very difficult for water birds such as Ibis to feast from its contents due to the sloped and slippery front opening.
For indoor use it's startling good looks will turn heads and guarantee a tidy environment. It has no sharp edges or protrusions that could cause injury.
This bin in brushed 304 grade Stainless steel will enhance any building, park, club, business or recreational or sporting facility.
It has no sections that can be removed by the public and comes with a metal inner liner that is only accessible via the locked door. (see picture)
The unit has a bottom mounting section with pre-drilled holes and comes with bolts for secure mounting into the ground.
Dimensions: 450mm diameter x 1140mm H
Weight: 33 kgs
Capacity: 70 litre metal inner liner